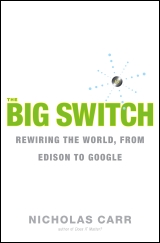 ... is excerpted in the Financial Times' Digital Business section today.
That is why the big data centres make Bill Gates and other technology executives so nervous. They encapsulate the full disruptive potential of utility computing. If people and businesses can rely on central stations to fulfil all or most of their computing requirements, they will be able to slash the money they spend on their own hardware and software. All the dollars saved are ones that would have gone into the coffers of Microsoft and the other tech giants.

What is happening to computing today is a revolution, the biggest upheaval since the invention of the PC in the 1970s. But it is not without precedent. It bears a close resemblance to what happened to mechanical power 100 years ago.
The Big Switch is not as in-your-face as his maiden bomb, Does IT Matter? But The Big Switch is a more important book because its central metaphor hasn't happened yet.
The book along with Nick's equally readable blog, "Rough Type", provide a center for rich discussion as utility computing fleshes itself out.
The more alarmist notes Nick strikes in person, say for instance in his Wired Magazine interview and again in Peter Whitehead's FT Digital Business podcast, might reflect a feeling somewhere that the book is not controversial enough.
It's a good enough read, though -- especially for non-techies -- to stand up well.