...a fraud & a hoax wrapped in a practical joke.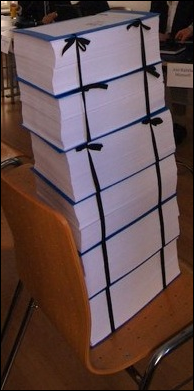 The OOXML Specification -- boon for Kinko's
Would you like to implement this in software? Pre - CISE - ly!
I haven't seen a practical joke this inspired since college when we disassembled Smitty's motorcycle and put it back together on the third-story fire escape.
Microsoft people are always working the slight of hand: The notorious Spec is higher than my head when placed on the desk. They of course will take every advantage by putting it on a chair. Here's Pavel...
I simply can't believe that developers and or TC45 members from Apple, Barclays Capital, BP, The British Library, Essilor, Intel, Microsoft, NextPage, Novell, Statoil, Toshiba, and the United States Library of Congress actually read the final document. I can't believe it. If I ever write such document, I surely won't sign it by my name. Why?

It is very simple and I wrote it several times. I do not like to look like idiot. After reading few pages of the specification, I think TC45 members simply like it OR they never read the specification OR something else ($$$$$)...
Do the footnotes align with the text? No one actually knows, since no single person has a sense of humor adequate to take responsibility for the whole thing.
The national bodies voting at ISO this year will not pass this fraud. No matter how many people Microsoft infiltrate onto the voting bodies, no responsible person will pass what they either cannot read or -- making the Herculean effort to read 6,000 pages without pay -- what they cannot possibly understand.
Why? Because there is no example of this documented specification in software -- certainly not in Office 2007. Anyone voting to approve will face the question: "What did you just approve?" and they will be hard-pressed to say without speculating. The future of universal document software shall not be guesswork.